Maryland Law Seminars
on Employment Law and LLCs
Thursday, March 28, 2019
Two Seminars (1. Morning Session; 2. Afternoon Session | Registration)
9:20 a.m. to 4:30 p.m.
Complimentary coffee and refreshments will be provided
RADISSON HOTEL AT CROSS KEYS
5100 Falls Road, Baltimore, MD 21210
Complimentary Law Manual with Registration
With each fully-paid registration fee, you will receive the latest edition of the Maryland Employment Law: Forms and Practice Manual or the Maryland Limited Liability Company: Forms and Practice Manual, complete with customizable eForms.
For more than 30 years, Data Trace Publishing Company, a Maryland company, has published a robust line of law manuals consisting of state-specific books and national books authored by prominent lawyers from the country's leading firms. These experts who practice in the areas of employment law, limited liability company law, corporate law, estate law, family law, securities law, licensing and technology transactions law, and the Uniform Commercial Code's Article 9, provide the materials and invaluable knowledge to produce the outstanding line of Data Trace legal books and manuals that include customizable eForms and annual supplements.
As a local company, we have the privilege of working closely with the dynamic attorneys who not only represent prestigious Maryland law firms, but also write and continually update our Maryland law manuals. We are honored to have them lead the following seminars:
MORNING SESSION:
Today's Hot Topics in Maryland Employment Law
Thursday, March 28, 2019 9:20 a.m. to 12:00 p.m.
Complimentary coffee and refreshments will be provided
AUTHOR AND SEMINAR LEADER:
Carla N. Murphy (Duane Morris LLP)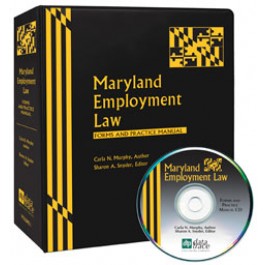 SEMINAR HIGHLIGHTS:
Maryland's Healthy Working Families Act
Maryland's Disclosing Sexual Harassment in the Workplace Act of 2018
MeToo: Discrimination & Harassment Prevention
NLRB Employee Handbook Update
Amendments to Maryland's Equal Pay Act
AFTERNOON SESSION:
Recent Developments Impacting Maryland Limited Liability Companies
Thursday, March 28, 2019 1:20 p.m. to 4:30 p.m.
Complimentary coffee and refreshments will be provided
AUTHORS AND SEMINAR LEADERS:
Robert M. Ercole (Neuberger, Quinn, Gielen, Rubin & Gibber, P.A.)
Stuart Levine (Law Offices of Stuart Levine, LLC)
Marshall B. Paul (Saul Ewing Arnstein and Lehr LLP)
Daryl J. Sidle (Baxter, Baker, Sidle, Conn and Jones, P.A.)
SEMINAR HIGHLIGHTS:
Principal Provisions of the 2017 Tax Act Affecting LLCs
Recent Maryland Transfer and Recordation Tax Changes Affecting LLCs
New Partnership Tax Audit Rules
Estate Planning With LLCs
Ways to Register
Call 1-800-342-0454
Fill out the registration form and submit using one of the following:

fax to: 410-494-0515; or
email to: customerservice@datatrace.com; or
mail to:
Data Trace Publishing Company
110 West Road/Suite 227, Towson, MD 21204